Master Your Real Estate Brand With Milesbrand.
Looking for more resources? Download our 10 Step Guide to Real Estate Branding.
Is your real estate branding creating the competitive advantage you need to succeed in the industry? Powerful brands have the ability to evoke emotion and action from your potential buyers, and it's time that real estate branding was given the creative attention it deserves.
Whether you're a home builder or real estate developer, creating a moving, memorable real estate branding strategy is crucial if you hope to reach the right audience. This guide to real estate branding helps answer some of the most important questions to consider when crafting your brand.
The purpose of real estate branding is to differentiate yourself from a saturated market where buyers expect close to perfection. That's quite the responsibility, if you ask us. To live up to those expectations, it's crucial to focus your real estate branding efforts on creating a competitive advantage. In other words, what can you do better than anyone else competing for your customer's attention?
Crafting a real estate brand with a lasting competitive advantage accomplishes three crucial things when it comes to standing out to your buyer:
Differentiates your brand from the competition
Connects you to the buyer
Prepares you for success
When you spend the time to truly identify what separates your offering from a competitor's, you immediately establish credibility and connection with your buyer, ultimately strengthening your brand story and preparing you for success. Our years of experience in real estate branding have helped us identify three crucial elements that all real estate brands must include to create a competitive advantage: authenticity, relevancy, and differentiation.
Authenticity
Few things speak to a buyer's heart more than authenticity. That can be said about a number of high-ticket purchases, but the emotion surrounding real estate makes it that much more important to let your authentic self shine in your brand identity. Authentic brands create trust among prospective buyers, inviting them into your brand and allowing them to feel comfortable when working with you.
Relevancy
Real estate is always adapting, and your real estate brand must do the same to remain relevant. Understanding evolving market trends and incorporating those into your brand is a must if you expect to build a relationship with potential buyers. If your strategy and suite of offerings are no longer seen as desirable, buyers will pick up on it immediately.
Differentiation
In the digital age of real estate, buyers are becoming more and more self-sufficient in terms of market research. They know exactly what they want and where to go to find. Differentiating yourself and what you offer through digital branding efforts makes it easier for a buyer to remember you.
For a deeper dive into building a real estate brand with a lasting competitive advantage, read the entire blog today.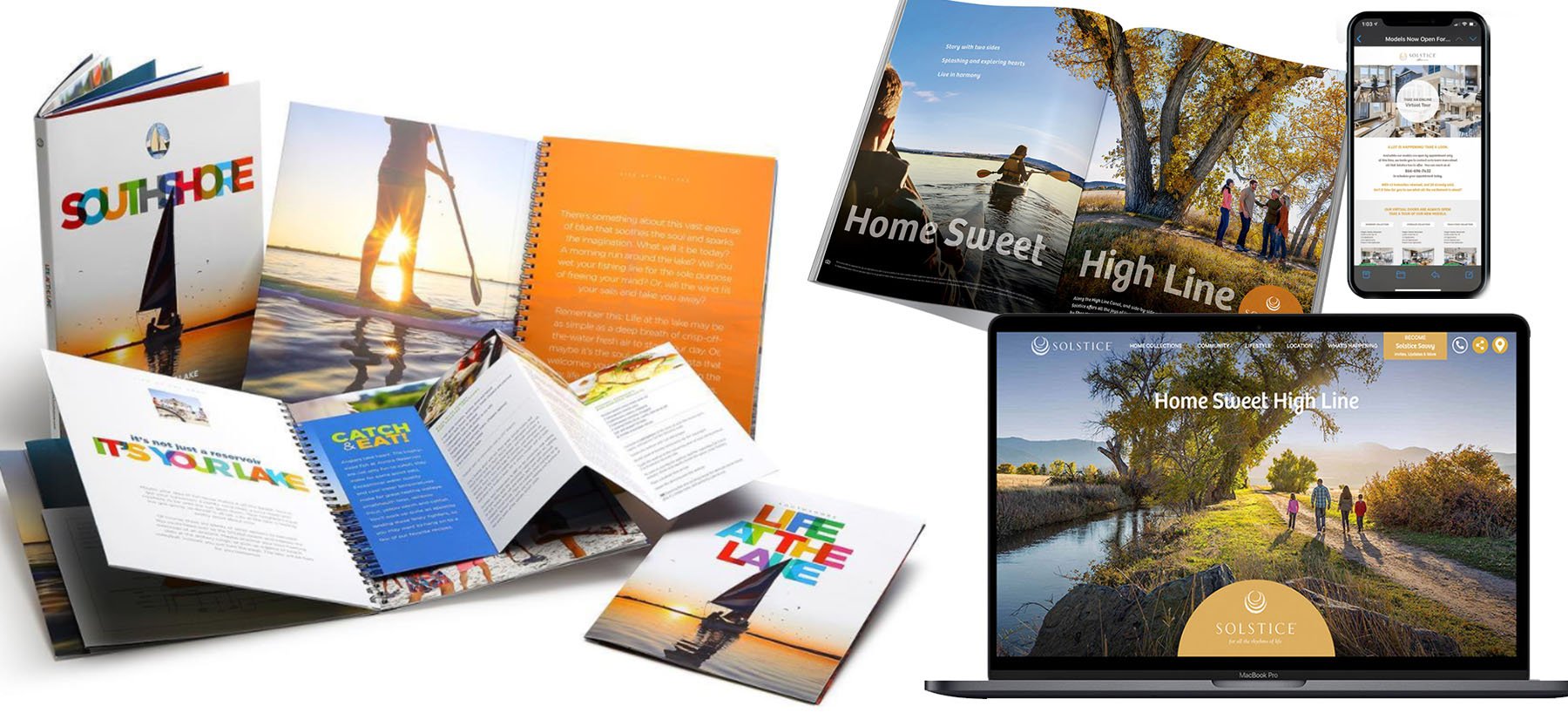 Successful real estate brands drill into a buyer's core problems and begin fostering trustworthy relationships. Given the amount of emotion tied to real estate purchases — whether it be a new home or future development — you need to show your clientele the results they can expect, not just tell them.
Between location, purpose, and promise, no two real estate brands can be the same. Our team has had the privilege of creating award-winning real estate brands, each with its own unique caveats. Here are five real estate branding examples we are thrilled to have played a role in.
True Homes

Tip: Highlight a Consumer-Centric Approach
The consumer must be at the heart of every brand, and True Homes accomplishes that incredibly well with its customer-first approach. True Homes takes the time to meet each customer's unique needs in terms of style and budget, so we wanted to highlight that consumer-centric approach with our real estate branding strategy. By spotlighting the "U" in their logo and coining the phrase "It's All About U" throughout their brand, we furthered that commitment to the buyer.
Solstice by Shea Homes

Tip: Let Creativity Shine
Simply put, branding must be creative. An uninspiring, lackadaisical approach to a real estate brand is tangible by all those who interact with it. When working with Solstice by Shea Homes, we made it a mission to let creativity run wild, and it resulted in one powerful phrase: "Home Sweet High Line." Using the location and amenities afforded throughout this community, this became the driving force behind the real estate brand and gave buyers a glimpse of their potential future.
1010 Midtown

Tip: Hone Brand Recognition
When your brand and product collaborate effortlessly together, you know something magnificent has happened. That was our goal when working with 1010 Midtown, a high-rise condominium in the heart of Atlanta. "Life on the Curve" became the mantra behind this sleek, sophisticated, and — yes — curvy building. The building design was sure to be recognizable in the skyline, so we made sure our brand became synonymous with that recognition.
London Bay Homes

Tip: Deliver a Brand Promise
Communicating a brand promise to potential buyers keeps you top-of-mind, but actually delivering on that promise established true brand differentiation. London Bay Homes markets to affluent home buyers with very specific needs that they expect will be met. The mantra "Private Label Living" promises a specific experience, and London Bay Home's team of builders, developers, designers, architects, and renovators follows through on that brand promise time and time again.

Use these tips to begin thinking about ways to improve your real estate brand. For more exceptional real estate branding examples, take a look at our full blog post.
As is the case with many luxury industries, luxury real estate branding requires a specialized approach beyond prototypical branding. Luxury real estate buyers have high expectations given the amount they are willing to spend, and attracting their business begins with a pointed brand strategy.
When marketing to affluent customers, keep these key differentiators in mind:
Features and Amenities — It should come as no surprise that the majority of wealthy homebuyers expect exquisite features and amenities. Use this to your advantage to not just list your luxury offerings, but show how they will benefit the buyer.
High Expectations — Buyers in the luxury real estate space have high expectations through all stages of the purchase. Because they are willing to spend more, they expect to work with the best in the industry. They want to know they're partnering with industry experts, so make sure your real estate brand proves your expertise and is delivered in a clear, sophisticated manner.
Luxury real estate branding takes time and effort to master, but when executed correctly, it allows you to connect with your ideal buyer. Read our complete luxury real estate branding guide for four tips you can implement in your brand strategy.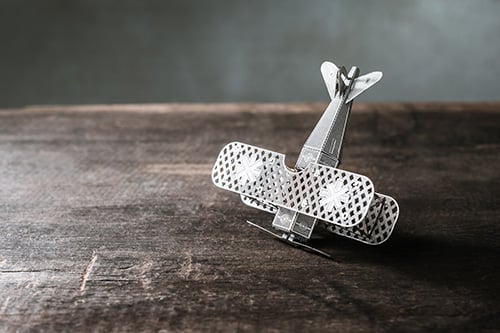 A sound real estate brand can lose its impact even with one small mistake. Remember, real estate is driven by emotion, and if your potential buyer begins to see your brand as ungenuine, it could be disastrous. With decades of combined experience in real estate branding, we know what works, and more importantly, what does not.
Targeting the Wrong Buyer. There's a reason we stress

buyer personas

as much as we do — you could build a beautiful, emotional brand to perfection, but if it is targeted at the wrong audience, it will all be for naught. Too many brands set unclear or incorrect expectations about their buyers, diminishing their brand's impact.


No Clear Positioning. Real estate branding cannot follow a hope-for-the-best mentality, yet too many brands put the cart ahead of the horse in their branding strategy. Avoid jumping in too quickly and take the time to establish your buyer personas, brand promise, name, and logo so you position yourselves properly in the industry.


Neglecting Your Initial Plan. In a similar vein, too many brands make the mistake of jumping ship from their initial brand too early in the process. While it's crucial to adapt to changing factors in the industry, it's just as important to see the initial legwork pay off. If you set the initial foundation correctly in terms of your positioning and promise, there's no need to stray away from that plan after just a few months of implementation.


Lack of Storytelling. At its heart, branding is a creative skill, and one of the most creative ways to connect with an audience is engaged, intentional storytelling. Telling a creative story about your brand brings it to life and adds a human element to something nonhuman. Think outside the box when it comes to brand communication so you can truly connect with your audience.


Focusing on Features Instead of Benefits. Features are great additions to a brand offering, but communicating how those features benefit the buyer is something too many real estate brands fail to accomplish. Videos, written content, and tours are all great ways to showcase your features and explain their unique benefits.


Uninteresting Photography and Creative. Potential buyers need to see what you are selling them, not just hear or read about it. Engaging photography and creative messaging are core to real estate branding and can truly set your offering apart.


Adopting a Follow-the-Pack Mentality. Buyers don't want several of the same options, so stop basing your real estate branding on the success of other brands. Your overall brand and the delivery of that brand are both opportunities for you to differentiate yourselves in real estate. Again, be bold, brave, and adventurous so you can stand out.
Avoiding these common mistakes can help bring your real estate brand together. To dive deeper into each of these mistakes and how to steer clear of them, read our full blog post.
Your brand is your reputation, and without a memorable real estate brand identity, you risk being overshadowed by a more memorable competitor. As a home builder or real estate developer, one of your duties is giving your clients something they can remember, thus remaining at the top of their minds.
You want them to encounter you and immediately remember certain aspects that are true to your brand and your brand only. Here are four components that memorable real estate brand identities have in common: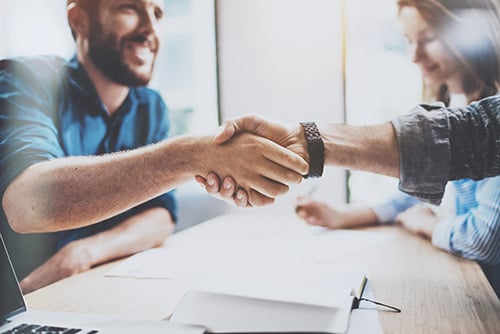 Targeted — A brand identity must speak to an exact audience if it's going to be memorable. Untargeted real estate brands that try to cast a wide net into the audience are often lost in the crowd. When your brand identity speaks to a specific buyer, though, they are more likely to remember it.
Unique — Before attempting to build your identity, it's crucial to embrace what makes you unique. From physical purchasing options to operating procedures, you are inherently different than even your closest competitor. Recognize that and use those intricacies to build a memorable identity.
Creative — For far too long, the creativity surrounding real estate branding has not matched with the magnitude of the purchase. It's time that the branding behind a person's biggest purchase of their life is given the creative attention it deserves. Utilize creative storytelling aspects to deliver a truly unique brand.


Emotional — Real estate brands have to touch a person's heart, period. We already know how monumental this purchase is, so take the time to show your buyer that you intimately understand them by creating an emotional brand identity.
Learn about memorable real estate brand identities — including five things you need to clarify before beginning the process — in our full article.
TAKE THE NEXT STEPS
At Milesbrand, we know that real estate branding doesn't come naturally for everyone. Luckily, it's what we do best. If you need help establishing your real estate brand, contact the Milesbrand team today.